What's the Best Audiophile Turntable Under $1,000?
With US vinyl record sales generating more revenue than Spotify and YouTube combined in 2015, it's safe to say that vinyl is no longer "making a comeback." It has very much arrived – and every working band is releasing their new album on wax and/or re-issuing their back catalog.
Everyone from that skater punk next door to your cool Uncle Jimbo is spinning wax again. And the reason is quite simple–vinyl is the warmest, purest way to listen to your music. From the looks of things, vinyl is here to stay. Whether you're new to the vinyl scene or a hardened wax warrior, it's never been a better time to be a music fan.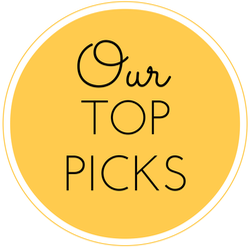 Let's get right into it. And to make things super easy for you, please use the interactive table below to quickly compare sub-$1,000 audiophile turntables (and a few that cost a bit more than $1,000) against one another:
As you look at the record players above, you may feel it's truly time to begin upgrading your turntable. And if you are in the market for a new turntable, and one that you feel is audiophile quality, then you've come to the right place. Not only will this article break down exactly what you should be looking for in your new turntable, we'll recommend a handful of quality tables under the price point of $1,000.
Justifying a New Turntable Under $1K
As the record scene has continued to evolve, so too has the market for the turntables that spin them. Almost overnight, turntables have gone from niche technology to best selling electronics at your local Target. And while those Crosley turntables look slick and won't break the bank, they're severely lacking when it comes to construction and sound quality. They've made efforts to improve in this area, but for most consumers they're little more than a gateway drug.
And yes, I was one of those consumers. While I sometimes miss the simplicity of my little Crosley, I certainly don't miss the tinny guitars and muted bass lines it produced from my 180g pressing of Pretty In Black by The Raveonettes.
In short, I needed a new record player.

After numerous late night conversations with my record buddies, I began the hunt for my first audiophile turntable. I promptly found myself adrift in an intimidating world of brands and terminology altogether foreign to me. I felt like I needed an engineering degree just to look at some of the turntables out there. Ultimately, my quest for sonic perfection began with a vocabulary lesson. So, before we start talking price and features, we should start with a crash course in turntable lingo.
Key Terms to Understand
Here are a few keywords you'll need to know for your hunt.
• Audiophile – At its simplest, an audiophile turntable is a player with a straight tone arm, re-balancing capabilities – to adjust needle pressure – and features an interchangeable cartridge. The function of each element is to produce optimal audio reproduction. Got it?
• Plinth (or Base) – This is the foundation of your turntable, the piece that holds the working parts together. It can be made of many different materials – from wood to metal to carbon fiber or resin. As we're looking at audiophile tables, we'll see more of the latter two. The materials used in the platter are meant to dampen interior sounds – like the motor – while enhancing the overall sound produced.
• Platter – Here's an easy one. The platter is the part of your table that spins the record. General rule of thumb is – heavier platter = less vibration. Less vibration means purer sound and less skipping and jumping. This is a key feature for any audiophile turntable.
• Tonearm – Here's another easy one, except not so easy. The tonearm is the piece that swings over the record, allowing the needle to make contact with the spinning disc. But the tonearm is a bit more complicated in that its design should help your turntable maintain consistent sound and speed of rotation. Some turntables feature automatic tonearms that take the human element – and potential for the bad kind of record scratching – out of the equation. Most audiophile players are set up for manual operation, so keep that in mind as you're looking at your options.
• Cartridge/Stylus – Newcomers tend to get tripped up here as the terms are often used interchangeably. But the cartridge and stylus are not the same. The stylus – or needle — is the part of your turntable that makes contact with the record. The cartridge is the housing for that needle and should never make contact with your record. As you can imagine, since the cartridge houses the piece that touches your record, its construction is pretty damn important. But so is the needle. Most audiophile players come with a higher-end cartridge/stylus pre-fitted. You'll want to closely inspect what each is offering, as the cartridge will directly affect frequency range and overall sound quality.
. Pre-amp – The pre-amp is vital because it amplifies the music through your speakers so you can actually hear it. Pay close attention to whichever table you're looking at because some come equipped with a pre-amp and some do not. Purchasing an external pre-amp can be an expensive prospect, so be aware. And take note that upgrading a built-in model is … complicated.
The Players Ball
Still with me? Good, 'cause it's time to have some fun and take a look at a few of the best audiophile turntables on the market. After all, it doesn't matter how many 180g reissues and original pressings you amass if your turntable is garbage.
As with any major purchase, you're going to want to have a budget and stick to it. Here's what you can score with $1000 or less of your hard earned money.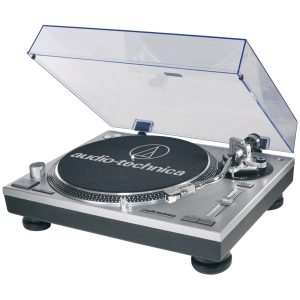 Audio-Technica has been making quality, affordable turntables for decades now. It says a lot that the AT LP120 is one if their best sellers.
I call it 'The Tank' because, well, its sturdy plastic construct and aluminum features make it feel just as tough. Newcomers wary of high-maintenance machines will feel right at home with this little beast. They should also feel comfortable with its ease of use. It comes equipped with a pre-mounted Audio-Technica cartridge, features push button speed control and is the only direct drive motor on this list.
So, don't worry new guy or gal, you won't have to fumble about with a drive-belt. You also won't need to worry about a pre-amp because this deck comes with one built in. Just plug in your speakers and start spinning. For those interested, this deck also features a USB port that allows you to convert your vinyl to digital files.
This is a bulky turntable, but excellent for everyday use and a solid jumping-in point for anyone looking to upgrade.
Pro-Ject Essential III Phono

(The Minimalist)

$299
By now, you've probably read a few articles claiming that Debut Carbon II is Pro-Ject's premiere entry-level deck. I can hardly argue that logic. The Debut Carbon is a seriously sexy turntable. I came close to buying one myself. But in the end, I went with Pro-Ject's Essential II for one simple reason–design.
Sexy as the Debut Carbon is, you have to lift the platter to change between 33 and 45 speeds – which is very annoying for any fan of 45s. I happily sacrificed a bit of sleekness to avoid this issue. And yes, the Essential II is boxier than its Pro-Ject counterparts. That doesn't mean it's less impressive in the sound department, however.
Featuring an uber-quiet, low vibration motor, this belt driven deck comes fitted with a sleek aluminum tonearm tipped with an Ortofon OM5e cartridge – a step down from the Debut's cartridge, but easily upgradable. It also features a high-density fiberboard platter and stiff particleboard base that enhances audio production. Wrapped in a slick, minimalist design, you'll be hard pressed to find a better entry-level deck at this price point, though you'll have to pay an additional $100 for the USB version.
What really sets the RP 1 apart is its handcrafted feel. Each deck is hand-assembled in Rega's home factory in England. No other deck on this list comes with more love put into the details.
Thorens TD 170-1 EV Turntable (The Automatic) $699
Manual speed switching? Check. Silent, belt drive motor? Check. Pre-mounted Ortofon OM 10? Check. Built-in Phono Pre amp? Check. Fully automatic tonearm? Check.
Wait, what?
You read that correctly, fully automatic tonearm.
With the TD 170-1, Thorens delivers one of the few fully automatic audiophile decks on the market. You'll never have to worry about that record spinning past the grooves and damaging your stylus again. That's a great thing for forgetful newcomers afraid of damaging their precious vinyl or their shiny new toy. Constructed with a killer, vintage style that harkens back to decks of the '70s and '80s, this one is gonna look amazing in your living room too.
With its sleek design and glossy finish, The MMF 5.1 is the best-looking turntable available at this price point.
When a deck looks this good, it almost doesn't matter what sort of features its packing. Except of course, it really does. With that in mind, the MMF 5.1 is a near flawless cross-section of design and function.
That begins with the table's unique dual-plinth design that isolates noise producing components – using elastic cones between the platforms – while also damping vibration. This design is exclusive to Music Hall and offers an invaluable option to audio purists. But the features don't stop there.
The MMF 5.1 comes equipped with a one-piece alloy tonearm, a dynamically balanced alloy platter and the coup-de-gras–a Music Hall Magic 3 moving magnet phono cartridge and nude elliptical diamond stylus.
If that last bit got confusing, just know that it's one of the best cartridge/stylus packages on the market. There's more to tell, but you get the point. This is a stunning turntable whose parts seamlessly merge to produce a pitch-perfect audio experience.
And my goodness, did I mention how lovely it is?
What Now?
Now, fellow deck divas, you go forth and find the right audiophile deck for you. Whether you're looking at the turntables on this list or going in another direction entirely, you should have a much clearer idea of what to look for.
You Might Also Like: