What's the Best Turntable Under $500 to Buy?
You deserve a massive "congratulations," because if you're reading this, you're among the growing number of discerning music lovers that have either already taken the "vinyl plunge" or plan to do so very soon. You've been prowling the thrift stores (or plan to do so) and are excited to spin those shiny black platters day and night.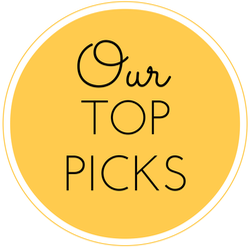 Also, please take a brief moment to use our interactive table to compare a few sub-$500 turntables against turntables that are a bit more expensive, so you can make an informed comparison:
Finding the Right Turntable
This means that you're a budding audiophile, and you can wear that badge with pride. But it also means that you're probably not totally satisfied with your vinyl rig, or have yet to purchase one. True believers hardly ever are – there's always something better. Perhaps you drooled over a friend's outfit, did some serious reading at sites like Stereophile, or perused the forums populated by those in the know at Audioasylum.
Basically, you're convinced that the records in your growing collection can sound even better, and now it's time to do something about it. That's why, in this article, we're going to help you find the perfect turntable for you that's priced at $500 and under. In fact, we're going to not only show you what you should most consider when buying a new table, but we'll also provide you with five turntables that we think are great (and under $500), and explain why each one is worthy of your consideration and money.
Selecting a Sub-$500 Turntable
Whether you're looking to buy your first turntable, or you've been listening to vinyl for a while and are ready to step up your game, the rules are the same. Budget always comes first. Sure, it's fun to dream of expensive turntables. But truthfully, you just need an affordable record player that works for you.
With that in mind, you may be wondering how to go about choosing the best turntable under $500? Well, there are a few things to consider, keeping in mind that a basic, off-the-shelf turntable isn't all that complicated. A platter sits on a base, and a motor rotates it at a constant speed. A needle (stylus) is mounted on a cartridge, which in turn is connected to an "arm." The arm "rides" the record grooves, and the vibrations from the grooves are electronically turned into (hopefully) glorious analog sound. Little has changed since Edison.
The Thrill of the Hunt
With the so-called vinyl "craze" in full swing, there are more new turntables on the market than ever before. These run the gamut, from lower-end USB models (some actually sub-$100) to the outer limits of esoterica. We're looking in the middle range when it comes to turntables, where stunning values can be found.
We want a machine that appears built to last. It should look and feel sturdy. Too much plastic isn't fantastic. The stylus shouldn't skip grooves if the turntable is bumped or there are heavy footsteps nearby. Many vinyl aficionados also seek a table that's basically ready to play out of the box, although tinkerers love to do their own setup.
Factors to Consider:
Before we list our top five turntables $500 and under, let's first discuss what you should most consider when buying a new record player.
-Someday your plinth will come: A plinth is the base and it supports the other components. The more solid it is, the better. A turntable's design should minimize resonance and vibrations that can get in the way of the music. A plinth made of medium-density fiberboard (MDF) or better is the way to go.
-Platter chatter: A heavier platter (the thing the record actually rests on) helps keep the speed consistent and output free of vibration. The machine itself should make no noise whatsoever.
-The spin: Turntables operate in two ways, belt drive or direct drive. With belt drive, the platter sits on bearing; a motor is mounted to the side and spins the platter by means of an elastic belt. With direct drive, the platter is actually on the motor shaft. This design starts the platter moving more quickly and can offer more consistent speed.
-In control: Turntables operate in two ways. Fully automatic means that the flick of a switch or push of a button does everything – starts the motor, raises the arm, drops the needle onto the record, then raises the arm again and turns the table off. A manual player requires the user to do it all. Manuals are usually more expensive, and it's generally believed that their less-complicated design results in longer life and higher sonic accuracy.
-'C' is for cartridge: Turntables generally come with a cartridge pre-installed, but you may have to manually balance the arm and set the stylus pressure. Some manufacturers cut corners by including a cheaper cartridge to keep the unit under a certain price point. This isn't necessarily a deal-breaker. They usually sound fine, and you can always upgrade later. Look for major names like Shure, Audio-Technica, Grado, or Ortofon, among others. Another factor is stylus pressure (or tracking force); the lower the number, the less record wear.
-Wow! Specifications for audio components can be misleading or, in some cases, worthless. Speed stability, wow and flutter, and other numbers should be considered, but most – if not all – contemporary tables in our price range are well within acceptable specs. Your ears will tell you if something's not up to par.
Candidates, Take the Soap Box
There are worthy contenders everywhere, and our list isn't by any means definitive. But here are five tables that should have a spot on your short list. We've scored each table from one to five stars, with one being the worst and five stars being the best.
Let's begin with the Music Hall MMF 2.2.
Music Hall MMF-2.2. Roy Hall's U.S.-based company is renowned for quality at an attractive price, and this stunning belt-drive, manual table in gloss black is no exception (it also comes in vivid red).
Its biggest strength is the construction – a rock-solid MDF chassis rests on rubber feet that dampen vibration. No worries about skipping records here. The table has a steel alloy platter revolving on a stainless steel and bronze bearing assembly. The attention to detail is impressive.

This straightforward, silent runner comes basically ready to play. The downside? It includes a decent but no-name cartridge, albeit one that tracks at a nice and light 1.75 grams.
Grade: ****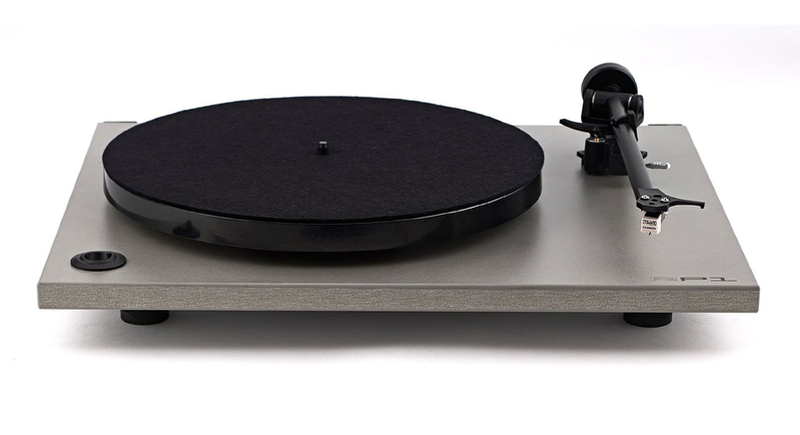 Rega RP-1 (or Rega Planar 1). This British company has made some of the world's finest turntables and always has something for the budget-conscious – like the RP-1.
There is nothing fancy or frilly here, just a substantial, MDF-based, manual table that, like the Music Hall, is belt-driven. Its motor is probably the quietest on this list. It comes out of the box fitted with Rega's very fine, hand-assembled RB 101 tonearm and an acceptable cartridge. Tracking force is 1.75 grams.
Like the Music Hall (and nearly all Rega tables), it is essentially "plug and play." It comes in three colors – white, gray and black.
Grade: ****
NOTE: You can read our review of the Rega Planar 1 here!
Denon DP-300F. The Japanese are known to be audio-obsessed and have produced legendary record players. Denon's belt-driven DP-300F (which has since been updated to the new Denon DP-400 turntable) is an extreme bargain for those seeking an automatic table.
Don't have a phono input on your receiver? This unit features a built-in preamp that lets you connect it to an ordinary auxiliary input, a must-have feature for some.
It isn't nearly as rugged as the Music Hall or Rega and comes across as a bit too plastic-y, but it's surprisingly serviceable. It tracks a tad higher at 2 grams.
Grade: ***
Audio-Technica AT-LP120. On the direct-drive front comes this plastic-and-aluminum, manual table modeled after those hefty DJ players. Unlike the others, it features an S-shaped tonearm (straight is supposedly better, but nothing is cast in stone. Minimum tracking force is 3 grams, about as high as you'll want to go.
As a bonus, the AT-LP120 hooks directly to your PC so you can turn your record tracks into MP3 files, if that's your cup of tea. It's fitted with an above-average Audio-Technica cartridge, very much a plus.
This is an interesting table that feels a little cheap but manages to play above its price tag. It's an excellent choice if you're less than dainty with your records. And you might like the silvery, industrial look. Grade: ***
Pro-ject Debut Carbon DC: Tables from Pro-Ject, based in Czechoslovakia, have become the critics' choice, and for good reason – maximum features and quality at a minimum price.
The belt-drive, manual Debut Carbon boasts a unique power supply for point-on speed control and vibration reduction as well as a unique, carbon-fiber tonearm (hence the name) for anti-resonance stiffness. The stylus tracks at 1.53 grams – very light and sensible.
It has a splendid Ortofon 2M Red cartridge already mounted (the best standard cart of our bunch). Like several others on our list, the table comes in colors: gloss black, gloss red, gloss blue, gloss white, and silver. Grade: *****
The Final Word
As you can see, there a large variety of excellent, affordable options when it comes to record players. In truth, any of the five turntables listed above will be great. It's truly a great time to be a fan of vinyl, as you can get great sound out of quality turntables that are priced well within reason.
Once again, congratulations. You're moving on up, and your ears will thank you for it.
You May Also Enjoy: