What Are The Best Turntables Under $200?
You may have heard recently that "vinyl is making a comeback." You may have even noticed a sudden change in the number of vinyl LPs being stocked on the shelves of your favorite brick and mortar record shop. Take note—vinyl is no longer "coming back." It's been here for ages in fact, and has no intention of ever being totally toppled by the digital world.
Because of this, it seems like everyone is getting in on the action. Especially manufacturers of turntables who have flooded the market with shiny new decks in all shapes, sizes and prices. With so many options out there, buying a new turntable can be a daunting task. After all, not everyone can afford to drop $1,000 or more to get the shiniest deck in the store.
But don't worry. Not only can you find a solid turntable for under $500, by the end of this article, we'll help you narrow down the list of great turntables priced under $200.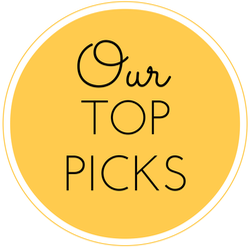 Below, use our table to compare some of the best turntables priced under $200. You can compare each of them based on price, key features, and customer rating averages:
The Right Turntable at the Right Price
Whether you're an old turntable titan looking to get spinning again, an enthusiastic "noob" looking to dip a fresh needle into the world of wax or a hip parent tempting your digital child with the wonder of physical albums, there is an option out there for you. Even if you're not looking to break the bank on a true audiophile turntable, there are still some amazing, affordable turntables out there. One of them will be right for you.
All You Need
Before you open up that wallet, there's a few things you need to consider to ensure that you get exactly what you need.
Cost – Rule number one with any major purchase is this: know your price point and stick to it. As I said, there are tons of options on the market right now and they vary dramatically in price. If you're just getting started, you really don't need to drop $500 on a deck—especially when you can get everything you need for under $200.And that's exactly why you came to this article, right?
Sound – There are legitimate reasons to listen to music on vinyl. Most important among those reasons are warmth and depth of sound that vinyl produces. The primary reason to listen to music on vinyl is that purity of sound. You just can't reproduce it digitally. Whatever deck you settle on, just make sure it can the bring warmth and the noise. And keep in mind that most new decks do not include speakers. Whatever table you settle on, you'll need to factor that in.
Features – Do some research here, 'cause this is where your money is going. It's also where you'll have the most decisions to make.Tonearm, base, platter, speed controls, drive-belts and especially stylus'—there are a lot of features to choose from.In the $200 price range, there are of course fewer features available, but they still matter. So pay close attention. And remember that at this price range your turntable may or may not come fitted with a phono pre-amp. You may have one more decision before you can start spinning.
Function – There are some practical matters to consider as well. Do you want a deck with an automatic tone arm? We'll see a mix of automatic and manual options in this price range, so you'll want to ask yourself one simple question—do you trust yourself to get off the couch and lift the needle every time you reach the end of an album side?You'll also want to consider speed control. Many decks require you to manually change speeds by adjusting the drive belt on your platter. Most of the decks we see in this price range will feature push button or knob speed switches, but you'll still want to pay close attention.It's not a huge concern, unless you've stumbled across a killer 45 copy "God Save The Queen."
Style – The look of your deck says a lot about you. You'll want a deck that says as much about you as it does the music you're spinning. Minimalism currently rules the audiophile realm, so don't expect a lot of flash with your deck.Pay specific attention to what materials your deck is made of and how that will look in different colors. And yes, many decks have a variety of color choices. Your turntable will become the standout feature in which every room you put it in. Make sure it stands out for the right reasons.
The Players Ball
Now that we've got that important public service announcement behind us, let's have a look at some of the top turntables you can score for $200 or less.
This was my very first turntable just a few short years ago before I upgraded, and although some people may bash it because it's an automatic deck, I think it's a great table for an absolute beginner who wants to jump into the world of vinyl, wants quality within a specific price point, but also doesn't want to spend half of their savings.
Audio-Technica has been in the turntable game for a few decades now and they've never put a substandard deck on the market. Needless to say, their reputation is impeccable. It's almost impossible to believe that you can grab one of their decks for under $100.
But here we are with the AT-LP60. And this fully automatic, belt-driven deck does not disappoint.
Featuring an aluminum platter, pre-fitted Audio-Technica cartridge, a built-in preamp and simple push button controls, all you really need to do with this deck is plug it into your speakers and start spinning. Sure, the LP60 is Audio-Technica at its most base, but that still makes it better than most of the decks on the market.
And in this price range, it's impossible to beat.
4. Sony PS LX300
Though Sony hasn't really set the turntable world on fire, they're still one of the biggest names in the electronics industry. And they carry the mantle for a simple reason—their products are high quality and easy to use.
And the PS LX300 is nothing if not easy.
This table is fully automatic, has a built-in phono preamp, is belt driven, and comes pre-fitted with a cartridge (though admittedly this is the weakest cartridge/stylus package of the turntables listed here).
In terms of features, there isn't much to set this deck apart from the pack. Likely aware of the over-simple design and features of the PS LX300, the Sony team beefed the deck's USB package with their impressive Audio Studio software that allows you to easily digitize and archive your vinyl collection.
While other decks on this list come with USB capabilities, none match the PS LX300 for ease of use. For those of you who want to digitize your vinyl collection, this Sony deck is a solid, if overly simple option.
Denon is not the flashiest company making turntables today. But they don't really need to be when they're making decks like the DP-29F.
That all starts with construction. And the DP-29F features stable turntable rotation that helps produce true high fidelity playback. Like other decks on this list, the DP-29F is belt driven, fully automatic and includes a built-in phono preamp. It comes standard with a dynamically balanced tonearm. That arm is fitted with a killer Denon DSN-82 moving magnet cartridge, which is a big step up from the Sony and Crosley listed here.
It also features a super-quiet DS servo motor and easy switchable speed control. If you're looking for a strong bang for your buck, look no further than this little beauty from Denon.
2. Crosley C100A-SI
Crosley is sort of the ugly stepchild of the turntable industry. Mainly because they mass produce decks for the Target set. That doesn't mean that they aren't making good products, however.
And in recent years, the Crosley team has been working overtime to raise the quality of their decks. They've even dipped a tentative toe into the newbie audiophile realm.
That all started with the release of their C100. Pitted as a bridge deck for the burgeoning audiophile, the belt-driven C100 is packed with killer options. It comes fitted with a Crosley NP5 diamond stylus, built-in phono preamp, easy switch speed control and an S-shaped tonearm for slippage control. That tonearm is where the C100 begins setting itself apart from the competition by featuring adjustable weight control and anti-skating adjustment.
Weight and skating control equals less skipping—which is a good thing. The C-100 takes things a step further by including adjustable pitch control—which is nuts at this price point. And it's all wrapped in a tough, sleek package made of high-tech ABS materials.
It's hard to find much wrong with this deck, though it is not automatic, which may put some of you off. But at under $200, you shouldn't find much to complain about here.
Those of you with stores of battle-wax on your shelves, look no further than this DJ focused deck from Stanton. Equipped with a high-torque, direct-drive motor, the T62 easily switches speeds. And the pitch control fader lets you adjust tempo and pitch at a range of +/- 10 percent—so you can easily manipulate your tunes all you want.
The Stanton team pushes things a bit further with a straight, dynamically balanced tonearm that enhances tracking and makes scratching a cinch. The T62 also features two start/stop switches for mix or battle orientation—like I said, keep that battle wax handy kids.
With all those fancy DJ features, you may be asking, "will the T62 be able to simply play my records?"
The answer is a resounding yes.
That fancy tonearm comes fitted with the Stanton 500.V3 cartridge—sort of an industry legend – that offers the purest playback of any deck at this price point. With a sturdy build, it's also the toughest. That being said, for those new to the vinyl scene or just out for some chilled-out causal listening T62 may be a bit more deck than you need. But damn is it a lot of fun.
You Also Might Like: