What Are the Best Colored Vinyl Records?
In the category of "stuff I had as a kid and wish I'd kept," several things immediately come to mind. One is a charcoal drawing done of me by Roy Williams, the Big Mooseketeer himself, the very year that Disneyland opened. Another is a picture autographed by George Reeves when he appeared in full Superman garb at Sears in Los Angeles.
A third would be the most precious (and likely most valuable) if I had it today: Gene Autry's "Rudolph the Red Nosed Reindeer," which spun on our Magnavox console at 78 RPM more times than I could count. What made the little record particularly cool was that it was colored a jolly red in keeping with the holiday. We had lots of records at our house, but the only red one was mine.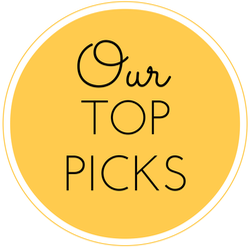 And before we begin our top 10 countdown of the best colored vinyl records, if you're in the market for a brand new turntable, feel free to check out the interactive table below, where you can directly compare some of the top turntable on the market against one another.
Now my Christmases with Rudolph didn't launch an obsession with colored records, but I've had a few over the years. One I particularly enjoy is "Kansas City Shout," on Norman Granz's post-Verve year Pablo label. And what a cast of jazz characters: Count Basie, Big Joe Turner, Eddie "Cleanhead" Vinson.
Why are colored LP record sales up? And why colored vinyl in the first place? It's often a matter of feeling special, because many colored releases are put out in limited quantities. I would add that color simply makes record buying and playing different, and hence more fun. There are even glow-in-the-dark pressings. Music in genres from rap to funk to hip hop and country can be found in all manner of colors.
Ranking the Top Colored Vinyl Records
So, whatever the reason you might want to own one, read on. We're going to recommend 10 that are imminently worth checking out, and we'll direct you to some places where you can snag 'em:
Miles Davis' great 1959 album "Kind of Blue" is the largest-selling jazz record ever. Considered a radical work at the time because it utilized "modes" instead of standard chord changes, it nonetheless comes across as remarkably accessible and is often recommended for introducing people to jazz.
Not surprisingly, it has had a startling number of iterations, beginning with the original Columbia LP, then moving to tape, myriad CD versions, and later coming full circle with 180-gram vinyl releases in both 33 1/3 and 45 RPM. Several of them are, naturally, a gorgeous deep blue, including the LP in an elaborate, 50th anniversary package. This was a very limited edition, so finding a new one is dicey. But the used market absolutely booms. They can be had for $70 or $80.
9) The Three Tenors in Concert
This hefty, blue version (25th anniversary edition) of the famed 1990 concert (Decca, about $35) is among the most popular classical albums of all time. Jose Carreras, Placido Domingo and Luciano Pavarotti do what they do superbly with conductor Zubin Mehta and the orchestras of the Maggio Musicale Fiorentino and Teatro dell'Opera di Roma at the ancient Baths of Caracalla, in Rome, Italy. It not only won the Grammy award for Best Classical Vocal Performance, it spurred much new interest in classical music itself. The live recording is excellent, and the package includes all sung texts. The long finale, conjuring up a wide array of music including "West Side Story" and "Cats," is alone well worth the price of admission.
Another anniversary package, this white-vinyl release (Ode Sounds, $16) celebrates this unlikely but extremely popular cult film's 40th anniversary. The sing-along favorite is, of course, known for its many years of midnight showings for fans decked out in bizarre get-ups.
The film's soundtrack is highlighted by the irresistible "Time Warp." It features stars Tim Curry, Susan Sarandon, Meatloaf, and others. Overall, it's crazy, campy, cool, and a keeper. The Ode Sounds release can readily be found new; there's also a "clear with red streaks" version and a red, 12-inch "Time Warp" single to be hunted down used.
7) Surrealistic Pillow
The death of Jefferson Airplane co-founder Paul Kantner was yet another blow to the musical memories of baby boomers. He and the rest of the San Francisco band can be remembered in style with this limited-edition white pressing (Friday Music, $32) of a legendary release. One of Rolling Stone's 500 Greatest Albums of All Time, it's a psychedelic timepiece and keepsake, capturing a very special era indeed. The searing vocals of Grace Slick are an enduring highlight on such cuts as "Somebody to Love," "White Rabbit," and "Plastic Fantastic Lover."
6) Dark Side of the Moon
Pink Floyd's uber-popular record chronicling a descent into madness still sells briskly – after more than 40 years. It has been reissued and repackaged too many times to count, and there have been numerous colored releases and even a few picture discs. The blue French release on the EMI Harvest label can be found on the used market for somewhere south of $100 and is considered to be the best of the colored versions.
5) Jazz at Massey Hall
An amazing gathering of jazz musicians – Charlie Parker, Dizzy Gillespie, Max Roach, Bud Powell, and Charles Mingus – assembled onstage in Toronto, Canada in 1953, and Mingus captured the concert on a home tape recorder. A clear-vinyl version (Newbury Comics) of the concert, with amazing sound quality considering the circumstances, can be had for a paltry $20. Splendid versions of bebop classics like "Salt Peanuts" and "Hot House" simply pound away in these pure, white grooves.
4) The Beatles – 1967-1970
Colored Beatles vinyl is scarce, but it's out there – if you've got the cash. This brilliant blue French pressing of the Fab Four's latter-years hits can be found for around $300 (sealed and unplayed) and for lesser amounts used. The music here is quite timeless, a vivid reminder of why the group has kept its place in everyone's musical hall of fame. Do some snooping and you can also find other treasures, such as a green "Abbey Road" (also French).
3) Get Yer Ya-Ya's Out!
Speaking of British rock bands, we have the Rolling Stones live from Madison Square Garden in New York in 1969 on 180-gram clear vinyl (ABKCO, $26). Back then, live albums weren't yet all the rage, and this one was considered a model for the flood of concert albums that were to come. The sound is clean, lively, and loud, and the hits just keep on comin' – "Jumpin' Jack Flash," "Street Fighting Man," "Honky Tonk Women" and more.
A collection of Ol' Blue Eyes favorites is celebrated with a (not at all surprisingly) vibrant blue disc (Barnes and Noble exclusive, $35). It features big hits done in the unmistakable Sinatra way. This single record features early recordings including "All or Nothing at All," "I'll Never Smile Again" and "Nancy (With the Laughing Face"). Two and four-disc collections highlighting Sinatra's middle and later years are also available – in blue as well.
1) Cosmo's Factory
John Fogerty's Credence Clearwater Revival was an extremely important and successful American band, and one of its finest albums has been treated to a brilliant red hue ($30) that contrasts starkly with the original blue Fantasy Records label. Huge hits like "Travelin' Band" and "Who'll Stop the Rain" make this a must for any good rock collection, not to mention a churning, burning "Run Through the Jungle." This is pure rock and roll with the spicy Cajun flavor that CCR was renowned for.
Oddities and Picture Discs
Does colored vinyl sound as good as plain black? Most agree that it almost does. Is it as durable? Probably not, at least according to the people who hang out at this forum.
The word is that black holds up better because of the higher carbon content. There's little doubt, however, that pictures discs have a very short useful lifespan and mostly exist for their novelty and collectability value. Admittedly, I have a couple Disney-related picture discs. One is The Lion King soundtrack and the other is the soundtrack for Aladdin. They're more just for "fun," because in all honesty, they don't sound as good as a typical black or even colored vinyl record. So, if you're tempted to buy a picture disc, by all means go for it, just know you're buying it moreso for the pictures on the vinyl than for the audio quality.
Here's a video someone uploaded to YouTube of the Aladdin picture disc spinning on an Audio-Technica turntable:
And, speaking of novelties, check these out. Many of these releases are completely beyond the pale, including a record made of … ice.
Where to Buy Colored Vinyl
Your local hole-in-the-wall record shop. Yes, record stores are back, and there well might be a pleasantly funky one in your neighborhood or close by. Most are mom-and-pop-style outlets that cater to a young crowd and specialize in indie releases, many of which are in living color. The best of these shops are homey and cluttered, and the guys behind the counter will chat about records endlessly if you let them.
Amazon. Just type "colored vinyl" in the search bar and the magic happens. The odds are very strong that they've got something you want.
eBay. It's an excellent source for vinyl, colored or not. But, at one recent count, there were more than 40,000 (!) colored-vinyl listings here.
Sound Stage Direct is a popular and reputable place to buy new vinyl records. If they don't have it, they can probably get it.
The record companies and bands themselves. Independent labels and performers often sell directly from their own websites.
Did you enjoy this article? If so, please take a moment to "like" our brand new Facebook page!
You Might Also Like: