Where to Find Cheap Vinyl Records?
Collecting vinyl is often a strange hobby filled with paradoxes. One of my favorite parts of buying vinyl records is that I feel a great sense of joy when I find, for example, Earth, Wind, and Fire's "Gratitude" for $1.00 at a yard sale.
In short, everyone loves a good deal, and though in some ways the search for cheap vinyl records becomes more and more difficult everyday, there are still bargains to be had.
Therefore, this article will be your go-to resource when it comes to learning how to locate vinyl records on the cheap. You'll not only discover where you can hunt them down to find true bargains, but how to go about identifying whether a record is in good enough condition to warrant a couple extra dollars, or has been so poorly maintained that not even the cheap price is worth the effort.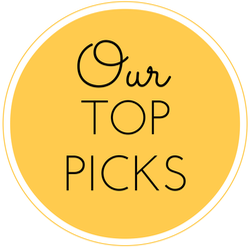 And, if you're in the market for a new record player, please take a look at some of the most popular ones currently available on the market:
Finding Cheap Records: Grading System Overview
We should probably begin by discussing the grading system a bit so we can avoid buying a copy of Bob Marley's "Exodus" for $10 only to find the music is drowned out by the pops and scratches from a poorly cared for record.
A grading system is designed to be a standard, or at least generally accepted, set of guidelines for determining the quality of something—in this case vinyl. The standard that most of today's collectors use is called the Goldmine Grading System, which comes from Goldmine Magazine and has been the most widely used methodology for decades.
While it is true that any assessment of a record's quality can be subjective to some degree, using a system like this one can give you more confidence in your purchase. Here is a breakdown of the six grades and what criteria are used for each one.
MINT (M): A mint record should be considered perfect in every way. It should look as if it just came from the manufacturer and has yet to be played. This cannot be stressed enough. Unless it is literally perfect, it cannot be considered mint and many collectors use this grade sparingly, if at all.
NEAR MINT (NM): A near mint record is shiny and lacks any marks or defects. Everything about it must be new, except that it has been opened already. Near mint records don't have to be "never played" but they should have been so well cared for that it appears that way.
VERY GOOD+ (VG+): Sometimes called EXCELLENT (E), this grade applies to records that still look and play near like new but may have minor scuffs or some light wear showing. A VG+ record might be slightly warped or have a very light scratch but nothing that effects the sound quality or the listening experience.
VERY GOOD (VG): The flaws of a VG record are more obvious and may actually make an impact on the sound quality. Scratches are deep enough to be felt and heard. That glossy look of a new record has faded and the hole may be misshapen or show signs of damage caused by the spindle. VG records are probably the most common, playable records out there. The listening experience is only slightly affected but it is clear this LP has seen some use.
GOOD (G): A good record can be played through without any skips but there is significant surface noise and the listening experience is definitely affected, though perhaps not ruined. For many collectors, a "GOOD" rated record is just something to use until you find a better quality copy. The category is often cut up into GOOD + (G+) and/or VERY GOOD – (VG-).
POOR (P) or FAIR (F)– Often poor records are a hair's breadth away from the garbage can. They are cracked, warped, or scratched.  Skips or repeats plague any attempt to play them, which obviously affects the listening experience. Generally a poor record would only be used if the prospects of finding a better copy are close to non-existent.
It is up to all of us, buyers and sellers alike, to uphold these standards. There are plenty of sellers out there trying to squeeze an extra few bucks off a record by listing a NM as M or a G as VG but in the long run this hurts everyone as the standards become less and less trustworthy.
For the most part though, vinyl collectors and sellers are an honest bunch and you will more than likely get what you pay for.
Where to Find Vinyl Records at a Bargain?
Now that we can be a bit more discerning about what we're looking for, it's time to go shopping. Here are the five places I believe are great if you're looking to acquire great records at even greater prices.
Originally created as a brick and mortar store in Greenpoint, Brooklyn, Insound.com came about as much more than a place to buy vinyl. Founded in 1999 as a music merchandising store, it took less than ten years for more than half their sales to come from vinyl and much of that was online.
During its early days, the focus seemed to be on Indie Rock and related genres. For example, just today I saw a copy of "Nuggets: Original Artyfacts from the First Psychedelic Era," which came out in '72 on sale for $16.79. Not bad for such a classic garage rock compilation, but these days Insound offers a wide selection of music merchandise and memorabilia to go along with their inventory of records in all sorts of genres.
Founded by Seth Frank, a self-diagnosed vinyl obsessive, SoundDirect.com has become an important piece of the online buying puzzle. You don't have to worry about the grading system here because all the records they sell are sealed and brand new, which does mean the prices are generally higher.
SSD also prides itself on their careful shipping process, in the hopes of avoiding damaged records, a problem that strikes fear into the hearts of collectors everywhere. SSD will automatically replace any item that arrives with defects and Seth throws a thank you note in with each and every purchase. You won't get that from Best Buy.
Discogs, short for discography, is actually a user-generated database of all things music related. From artists to recordings to labels, Discogs has compiled a listing of nearly seven million recordings and just over four million artists.
Discogs isn't just a crowd-sourced database though. It also added the Marketplace, an exchange that connects music buyers and sellers from all around the world. With over 23 million items up for sale, Discogs is definitely the largest single source for new, used, and reissued vinyl on the web. The prices vary as widely as the condition of the records and you do have to watch out for sellers who might push the envelope on their grades, but Discogs is hard to beat for convenience and size. The fact that it's matched up to such an enormous database of information makes this a one-stop shop for vinyl junkies and newbie's alike.
My personal bias might be showing with this selection but I don't care. Dusty Groove has been a go-to source of vinyl for me spanning 15-20 years. I've even visited their brick and mortar store in Chicago just to have a better mental image of where all my paychecks were ending up.
During my DJ days I focused on the funk, rare groove, and afro-beat genres Dusty Groove had in spades, but their site features a much broader selection.
They really do have a lot of stuff.
I remember reading that they'd purchased the WGN radio station's entire vinyl collection, adding some 40,000 titles to the warehouse. Rolling Stone even recognized Dusty Groove as one of the Best Record Stores in the USA, not a small feat. The prices vary according to the release and the condition, but there seems to be a bit more new records than used.
I'm surprising myself with this one but I have to admit it's true. Amazon makes purchasing and shipping items so easy that you simply cannot discount them.
And to step it up a notch, Amazon has a quickly growing collection of vinyl, both new and used. Your price ranges depending on whom you're buying from and what condition the record is in, but frankly, Amazon is set up to sell vinyl so perfectly it's a wonder they haven't been doing it much longer.
Plus Amazon Prime members always qualify for that free two-day shipping, which makes everything so irresistible. It's almost like I'm losing money by not buying that Jim Croce record.
I'm lumping these two together because they are so similar in format, though Ebay has made the buying, selling, and shipping of items so easy it makes Craigslist look a little cumbersome.
Still, for finding used records, or perhaps jumpstarting a collection by purchasing someone else's collection, these two are an important part of the repertoire. Buyer beware in both cases, of course, but here again Ebay has made its seller rating system so effective it keeps the less scrupulous in check to an amazing degree.
Craigslist doesn't offer that, but it's local, convenient, and seems to be the closest thing to pawing through milk crates of LPs at a garage sale. To find truly cheap vinyl, these might be your best bets.
Conclusion
The next time you're stuck inside from the rain or you've got a hankering for that 7" of K Frimpong & his Cubano Fiestas, check out some of the sites/stores I brought up above. While it make lack some of the visceral experience of flipping LPs from bin to bin in your local record store, it will scratch the itch and allow you to find almost anything your heart desires.
Vinyl seems to be here to stay, which means vinyl stores (online and offline) are too, and I'm putting my money on stores like these to carry us into the next generation of listening.
You Also Might Like Reading: