What Are the Best Christmas Vinyl Records to Buy?
There are so many ways to judge a good Christmas album that it's practically impossible to create a list of selections that won't elicit retorts about what's been left out or overlooked. I tend to be more of a traditionalist when it comes to the genre, but that doesn't mean I don't appreciate a good deviation when I hear it.
For the most part though, I think we can all agree that not much has gone on with the Christmas music scene since the mid 60s, at least as far as new compositions are concerned. There may be a few scattered attempts at writing and recording great holiday music, think Cliff Richard, but for the most part when it comes to that most wonderful time of the year our play lists fill up with the classics.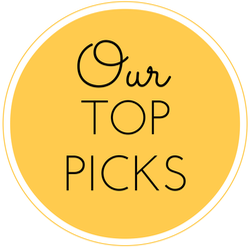 And before we get started, please use the interactive guide below to view some of our favorite Christmas albums on vinyl:
Ranking the Best Christmas Records
So get out your vinyl record cleaner–here is my list of the Top 10 Christmas albums required for any vinyl collection.
First of all, it's Johnny Cash–and if a piece of vinyl has his name on it you should probably own it.
Second, it has four original Christmas songs written by The Man in Black himself, which may be an oxymoron if you really think about it. The album also features Cash covers of eight traditional songs including "Little Drummer Boy" and a version of "Silent Night" that is pure, heart-wrenching Johnny.
Some might be turned off by the "spoken word" pieces like Here was a Man or The Christmas Spirit, and I wouldn't blame you, but if you're like me, it's not enough of a problem to miss out on the rest of the record.
Third? Did I mention it's Johnny Cash? Just buy it.
I know we're starting off with two fairly non-traditional albums, but I'm not only a giant James Brown fan, I also can't get enough of this record.
What I like about this album is that Santa Claus Go Straight to the Ghetto and the rest of these tracks are pure James Brown. It's almost like he doesn't care what he's singing about, it's still gonna be funked up and it's still gonna make you dance.
I like to spin this record for a change of pace, a right turn from the more traditional stuff, and the easy grooves and crisp beats make it a hit with just about anyone.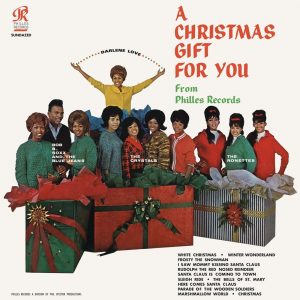 This collection of mostly secular holiday tunes was released on the same day President John F. Kennedy was assassinated. The idea is simple; take a handful of traditional Christmas songs and give them the Phil Spector treatment. By utilizing his standard cadre of artists and his now famous "Wall of Sound," Spector delivered a classic.
Stand out tracks: Santa Claus is Coming to Town by The Crystals, White Christmas by Darlene Love, and Frosty the Snowman by the Ronettes, which was featured in the Scorsese film, "Goodfellas."
With Spector's distinct sound, these classic tracks take on new meaning and evoke a totally different era while still maintaining that wonderful holiday feeling we expect from this genre of music.
This album is, indeed, a Christmas gift for us.
Christmas and the Grinch go hand-in-hand, there's no getting around it, and this album is the standard delivery system for Dr. Seuss' greatest achievement.
The infamous voice of Boris Karloff, as the narrator, is reason enough to buy the record but we all know that what we really want is Thurl Ravenscroft singing, You're a Mean One, Mr. Grinch.
It's song that's been handed down to multiple generations at this point and doesn't show any signs of slowing, not to mention that hearing Ravenscrofts deep, resonating voice might be the best reason to own a turntable in the first place.
Buy it. Play it. Feel it in your soul. The Grinch is here to stay.
6) Gene Autry Sings Rudolph…
Now we're getting to the real stuff.
I sometimes have the feeling that people don't realize some of the most iconic holiday songs were sung by "America's Favorite Singing Cowboy". Every song on this record is an instantly recognizable classic. Gene Autry is the Michael Jordan of Christmas music. Other people have done well but he owns the genre.
Why? Here are five reasons:
Here Comes Santa Claus (Right Down Santa Claus Lane)- There's a reason his version of the song is the one you automatically think of whenever it comes up. He wrote it, recorded it, and scored a Top 10 hit on both the Country AND the pop charts.
Rudolph the Red-Nosed Reindeer– Autry decided this holiday music thing wasn't a bad idea and one year after releasing Here Comes Santa Claus he scored a Number 1 hit with his recording of Rudolph written by Johnny Marks.
Frosty the Snowman– In a continuation of his holiday hit parade the next season after Rudolph, Frosty went to Number 4.
Up On the Housetop was next in line, and while it failed to chart the way his previous releases had, it still remains an iconic version of a classic song.
Rudolph's original release in 1949 wasn't the only time it was on the charts. Autry's version of the song would re-chart an incredible FOUR more times, including reaching Number 55 in 1998, a full 50 years after it's original release.  
Who does that?
Maybe it was the Rankin-Bass television special "Rudolph the Red-nosed Reindeer," which imprinted this song on my brain, but no Christmas is complete without some Burl Ives, at least in my household anyway.
My four year old son is as obsessed with it now as I was then, which means by the time the holidays are over I've listened to this song a hundred thousand times.
The combination of Ives' folksy voice and Christmas music is like peanut butter and chocolate, they're just good together, and hearing it on a rich, warm stereo system only makes it more delicious.
I've never owned another Andy Williams record and maybe that's a problem, but all I ever wanted out of the man was this version of It's the Most Wonderful Time of the Year.
It is the only version of the song that matters and it's a staple of the holiday season. There are plenty of other classics on this album, including Andy's version of White Christmas, though that recording was never able to overshadow the version sung by someone named "Bing".
Whatever the track, Andy William's voice is synonymous with Christmas music. He released a total of eight holiday records by the time he was done, but this Number One record was where it all began.
He had another Number One album entitled Merry Christmas which featured the hit, Do You Hear What I Hear?, but for me "The Andy Williams Christmas Album" is the must-have. (But you should probably go ahead and get the other one too. Why not?)
Did someone say "Bing"?
It's no wonder this album has made it into the top five on this list. It does, after all, contain the best selling single of all time, White Christmas.
You read that right. ALL TIME.
And it doesn't say, "best selling Christmas single" because Bing's hit sits atop all singles, of all genres. This classic song has sold over 50,000,000 copies worldwide. No wonder The Vinyl District lists it as their number one holiday recording.
The album itself has sold over 15,000,000 copies and is the second best selling Christmas album ever released in the US.
You knew Elvis was going to be on here, didn't you? How could he not?
Yes, Elvis' Christmas Album is the best selling holiday themed record ever released in the US. It has sold over 19,000,000 copies since it dropped 55 years ago, but is it worth it?
The answer is a resounding yes.
Just listen to Elvis' cover of Blue Christmas and you'll understand. The man had a gift and just about every track on this record exudes it. The album contains eight Christmas songs and four Gospel numbers. There were even two original holiday songs, Santa Claus is Back in Town and Santa Bring My Baby Back (To Me). Allmusic.com lists Elvis' Christmas album as one of the best holiday albums available.
For me the number one spot is a no-brainer. It's pretty much the only reason I look forward to Christmas.
Airing every year since 1965, the Charlie Brown Christmas Special is the most important part of the holiday season for millions of people. The simple, elegant message rings true no matter what year, no matter what age, but it's the music more than anything that keeps you coming back.
While it peaked at Number 13 and has only been certified triple-platinum, this special album has a larger legacy than it's better selling colleagues. Vince Guaraldi's compositions are credited with bringing jazz to an entirely new audience, garnering more ears listening than many of the greats like Miles Davis or John Coltrane. It has even been added to the National Recording Registry's list of "culturally, historically, or aesthetically important" American audio recordings.
For me, this music captures the mood of the holidays, the feeling of curling up on the couch with your family to witness Charlie Brown and the gang wind their way to another wonderful Christmas.
Honorable Mentions:
The Jackson 5 Christmas Album (1970): A classic that could, depending on the era you grew up in, easily take the #1 spot on this list.
We Wish You a Merry Christmas (1962): Ray Conniff and his harmonious singers always bring an exuberant energy to the Christmas season.

This album is so fun and upbeat, it's almost Disney-esque.
Mariah Carey: Merry Christmas (1994): This album was recently re-released on red colored vinyl.
Ella Fitzgerald: Ella Wishes You a Swinging Christmas (1960): Come on, it's Ella Freakin' Fitzgerald.

You need to go run down to your local record shop and do whatever you can to find this classic record.
Kelly Clarkson: Wrapped in Red (2013): Let's go for a super-modern record to add to the list.

Here, you have Kelly Clarkson releasing a Christmas album that features classics like "Have Yourself a Very Merry Christmas," as well as new tracks like "Wrapped in Red" and the extremely funny (and fun) track "4 Carats."

The vinyl comes in a nice, translucent red color.
You Might Also Like: