What's The Best Portable Turntable?
Whether we like it or not, we are living in the age of the iPod, smartphone and Spotify. Though we've seen a glorious vinyl renaissance over the past decade, music fans still like to take their music with them.
With so many digital options available, the idea of lugging LPs—let alone an entire record player—around seems a bit antiquated. Still, with the vinyl explosion, the ability to spin your precious wax whenever and wherever you like is quite appealing.
How else are you supposed to have a beach-blanket dance party a-la Moonrise Kingdom?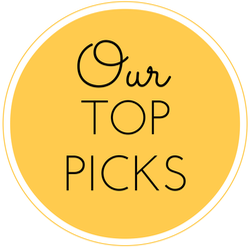 And quickly, below, please take a look at our interactive table to compare a variety of great portable turntables to one another (along with a few non-portable record players):
Do You Need a Portable Turntable?
Before we start talking about portable turntables, ask yourself this simple question: do you actually want to make your vinyl collection mobile and expose your wax to elements outside of your clean, climate-controlled living space?
You'll want to give that question some serious thought before moving forward.
Now, for those of you that are willing to take your vinyl with you on the road, well, you're in luck. From old-school suitcase record players to new-fangled hi-fi focused decks, we're here to help you sort through the best of the best that's on the market today.
Walk This Way
Before you start throwing the Benjamins around, there's a few things you'll need to consider to ensure that you're spending your money on the right features.
-Cost – While your portable deck should cost you considerably less cash than a more expensive, audiophile table, you'll want to definitely keep the potential cost of the turntable in mind. A rough price range is anywhere between $50 to $200 for a good portable deck. We'll get into specifics a bit later.
-Sound – When researching portable turntables, this is the category that will probably cause you the most grief. Although a lot of advances have been made in the mobile market, you're still going to be sacrificing a bit in the sound quality department if you go with a record player that's portable. Why? Well, because you won't have the best speakers, amps, etc because they've been sacrificed in order to give you a turntable that's portable (and relatively cheap in price).There simply isn't a portable turntable out there that can accurately recreate the warm tones you get from your home deck.But you can get pretty close with the right deck. Just make sure you get all the features you need to make it happen.
-Features – Here's where you need to do some research. Keep in mind, your portable will not have as many sound-enhancing features as your home/stationary deck. Still, you're going to need to take a long, hard look at tonearms, platters, stylus, motors, etc. Again, there's not quite as much to consider here as compared to a "regular" turntable, but you still want to make sure you're optimizing your sound capabilities.
-Style/Function – There are always practical matters to consider. Your portable turntable will not have the sex appeal of your home deck, but how it looks still says a lot about you. And once you get beyond the bulky suitcase models, there are some surprisingly sleek options out there.You'll also want to be sure that your portable can actually do the things it needs to do. Some of the functional issues are obvious—you'll want to make sure it has a built-in speaker, for instance.But there are other things to consider too. Things like speed control, USB connectivity—converting vinyl to digital is a big reason to go portable, after all. And most importantly—power supply. Most of the decks on this list are AC driven, but battery-backup is something you'll want to consider.
These Decks Were Made For Walkin'
Still with me? Good, 'cause taking your records on the road with you can be a lot of fun if you do it right. And there are some truly fantastic decks out there to aid you in your journeys.
Just FYI – the turntables on this list are pared down portable audio options and not suitable for DJ work. Don't even think about scratching.
1.

Pyle Home PVTT2UWD – $69.99
I'm assuming that your portable turntable will not be your primary deck. With that in mind, you may be looking for little more than a simple carry-along option. This Pyle, suitcase-style portable couldn't be any simpler. With knob-operated speed control (33, 45 & 78), a durable ceramic cartridge and two built-in anti-magnetic speakers, this streamlined belt-drive is a function over style stud.
In pure functionality, the PVTT2UWD does manage to trump the competition in a couple of key areas. First and foremost, the Pyle team has crafted a wireless listening experience with the PVTT2UWD by giving it a USB rechargeable battery—which is awesome. Especially when you consider the Audacity audio editing software you can use to digitize all your favorite albums and edit the digitized material into a playlist for any occasion.
When analog meets digital, music fans are usually the big winners.
2.

Crosley Revolution – $ 70.00
Crosley has all but cornered the market on portable turntables with a wide variety of suitcase-styled decks. With the Revolution, they pare down to the absolute essentials and take a decidedly different approach to portable.
One look at this little battery/USB powered, two speed deck and it's hard to believe it's a functioning record player. But Crosley has packed a lot of love into this clamp-down oddity.
That includes the Crosley NP6 cartridge and a durable "soft touch" rubber coating that gives the Revolution a surprisingly tough feel and makes it ideal for travel.
But there are some issues.
The size and construction of the Revolution leaves no space for built-in speakers, so you have to plug this one into your computer, an external speaker system or just use headphones. To that point, the sound quality for this deck is less than ideal too, and gets more than a little fuzzy on the high-end.
And there are obvious tracking challenges due to the uber-compact design.
Still, those of you looking for small, compact and user friendly will likely find what you need in this easily transportable turntable.
Note – The Revolution is a modern update of the fantastic Audio-Technica Sound Burger. We would've included the Sound Burger on this list, but it's no longer in production. You may have some luck tracking one down via Ebay – and if you can it's well worth your investment.
3.

NuMark PT01 – $89.99
This crafty little belt-driven turntable from NuMark has just about everything you need in a portable deck at an incredible price. USB connectivity with digital conversion software?
Check.
RCA line outputs to connect to your home system?
Check.
Internal monitoring speaker?
Check.
Pre-fitted NuMark CZ-900-10 cartridge?
Check.
Wall-power/AC adapter with battery-power backup?
Check.
As if those slick options weren't enough, this little deck is built like a brick and is just as tough. At just 4 x 4 x 4 inches, it'll even fit comfortably in a 12" carrying case.
To be honest, PT01's boxy, cube like design isn't much to look at, but it packs some serious punch in the sound department and it's super easy to operate.
What more can you ask for in a portable deck?
4. Crosley Nomad – $175.00
Of all the suitcase-style portables that Crosley has produced, the Nomad is the only one that matters. Featuring vintage inspired design, this three-speed, USB turntable lets you listen to and digitize your records anywhere—exactly what you should want a mobile deck to do.
The Nomad sets itself apart with the Crosley NP5 diamond stylus, a wood-styled cabinet ideal for sound conduction and two dynamic full range stereo speakers built in. Those elements combined make the Nomad one of the better sounding portables on the market.
Crosley ups the game by adding a sweet little option not featured on many portables—auxiliary input. Yep, you can plug your phone or iPod right into this bad boy and kick out some jams even you you're not spinning wax.
The Nomad is a big win for a Crosley team focused on taking their brand into the audiophile realm. Don't overlook this one just because it has that Crosley logo.
5. Vestax Handy Trax – $250
Holy cow do I love this little deck! With this Vestax beauty, the devil is truly in the details.
Designed with input from DJs and record collectors, no other deck on this list was assembled with as much thought. Just like its counterparts, the Handy Trax features USB connectivity, three-speed control and a built-in mono speaker that can easily fill smaller spaces like a bedroom or living room.
This little guy also features RCA outputs so you can plug directly into your rack system if need be. It runs on AC power, but is more effective when operating on batteries, with a reported 65 hours of playback time.
But we've heard all that before.
The Handy Trax ups its game by offering pitch and tone control that gives you the option to fine-tune your listening experience. And that's going to be important when you factor in the stellar 3.5mm headphone out that offers some seriously powerful, full sounding audio.
At 4 lbs, it's the lightest deck on this list. Of course, with all those stellar features, it's also the most expensive. But if you're looking for the purest reproduction of your home-listening experience, the Handy Trax is worth every penny.
Let's Get It On The Road
As you can see, you have a lot of great options when it comes to both price and features. Be sure to investigate each one thoroughly so that you can make the best purchase that works for you.
Good luck, and keep spinning those vinyl records.
You Also Might Like: