The Best Record Players Under $300
In this article, I'm going to help you find some of the best record players priced under $300 on today's market. I'll help explain why this is a very unique price range when it comes to finding good turntables, and I'll also do my best to help you understand the features you should (and shouldn't) be most focused on when searching for a record player that's $299 and under.
In fact, to better help you, I've created the interactive table below which includes a list of some very popular affordable record players currently on the market.
Bigger Prices, Less Features?
Turntables come in all shapes, sizes and, of course, all different prices. From entry level suitcase turntables to 250 lb behemoths that cost more than a luxury car, there are certainly no shortage of options on the market.
In addition, a funny thing happens when you move into the world of high-end turntables—you actually lose features. That's right, in a certain way, the more you spend the LESS you get.
Remember that auto-return tonearm?
Yeah, that's gone.
How about that convenient button that changes the platter speed from 33 rpm's to 45 rpm's?
Yeah, that's often gone too.
Built in-phono preamp? Nah man.
here is, however a happy medium, a price point as you move into the high end that can give you substantially better sound without sacrificing features or requiring you to purchase expensive accessories.
You'll still need other equipment, such as speakers and an amplifier, but they're worlds better than the plastic, mass produced entry level turntables on the extreme low end of the price spectrum.
And, without further ado, here are some of the top record players under $300. Let's begin with the Project Essential III.
Pro-Ject has been manufacturing turntables for over thirty years and is one of the most popular high end brands on the market.
Granted, the Pro-Ject Debut Carbon for $100 more, for instance, gives you a heavier plinth, better tonearm and more expensive cartridge, but that doesn't mean the Essential III is a slouch. The Essential III is a substantial upgrade to previous versions with a gorgeous, high gloss MDF plinth and new aluminum pulley.
It also sounds as good as it looks. A pre-mounted Ortofon OM 5E cartridge sits at the end of a robust tonearm with a comparatively over-built suspension. This ensures reduced vibration throughout and overall great sound quality with rich bass and detailed highs.
Being one of the first of the high end manufacturers to make a table at this price point, it does not have some of the features you'll find on other comparable models. It does not have a built- in phono preamp, for example, so you'll either need a phono input on your receiver or you'll need to buy one separately. It also does not have advanced speed control.
In order to switch between 33 rpm and 45 rpm records, you'll need to move the belt up and down the pulley that sits above the motor. This can be either annoying or cool depending on your inclination, but it is an extra step and can be a pain if the belt slips and falls off.
Overall it is a solidly built, good sounding turntable. While it lacks some of the features you'll find on other tables, it gives you a better cartridge than you'll find on any turntable on this list. It's high gloss finish and other upgraded stylings make it an attractive option as well.
U-Turn Audio is the newest, and arguably, the coolest turntable manufacturer on the list. They took the turntable market by storm four years ago with a successful Kickstarter campaign promising an audiophile turntable that not only sounds great but is incredibly affordable.
They parlayed their success into a business offering features and quality not usually seen at this price point. U-Turn also manages to do this while manufacturing all of their turntables right here in the United States, making them one of the great new success stories of the audio industry.
The Orbit Basic is pretty much just what the name implies—it is a good basic turntable. Like the Essential from Pro-Ject, you'll need to adjust the belt to change the speed. It also has a dense mdf plinth though you get an attractive matte finish and five different color options. You can, however, add a built-in phono pre-amp to the table for just $70.
Starting at $179, U-Turn's Orbit Basic turntable is the least expensive option on this list. This makes it an attractive option for the budget-minded, but keep in mind that you'll lose a bit of quality too.
The cartridge that comes pre-mounted is an entry level Audio-Technica and costs half as much as the one supplied by Pro-Ject. The turntable's tonearm is also not nearly as robust and will be more susceptible to vibration to other slightly more expensive options.
Orbit turntables are largely only available through online sales. There is an upside and a downside to this. Not being at your local audio shop, it's impossible to demo. Not being able to try before you buy is one of the biggest downsides to purchasing anything technology-related, to be honest.
The upside, however, is that U-Turn is able to cut out the middleman and offer you an inexpensive turntable that's built in Boston, MA at a price point no one can match.
I have to start of by saying, I have no idea how Audio-Technica manufacturers this turntable at this price point. It is a big, heavy, feature laden turntable that, in my estimation, should cost much more than it does.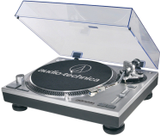 That being said, the AT-LP120 is not for everyone.
Unlike the previous turntables that are delicate, manual and sleek, the Audio-Technica AT-LP120 is a beast of a turntable more at home in a DJ booth than on a bookshelf. It's also the only turntable on the list that is direct drive instead of belt driven.
Its design is clearly reminiscent, as with many other DJ turntables, of the Technics SL-1200, the most iconic turntable ever made. The first thing you'll notice here is it's heavy—very heavy. DJ turntables tend to be carried around from event to event and are overbuilt to ensure they don't break when subjected to this tortuous lifestyle.
It has a slide pitch control that allows you to speed up or slow down the platter with precision. This is another great function for a DJ—although it doesn't necessarily translate to the average home player.
How would you use this feature? Well, for example, if you're using two turntables and transitioning from one to the other, it's a good idea to match the beat of the incoming song to the outgoing, and transition back as one song ends and the other begins. If you have a single turntable on a shelf in your living room, however, you're probably only occasionally going to use slide pitch control to make your friends laugh when you want to make your favorite band or artist sound like the Chipmunks.
That being said, this turnable gives you some features that you won't see in others. It has a speed control switch, so you can easily switch between 33s and 45s. It also has a built-in phono pre-amp which can be turned on and off. It gives you a removable headshell too, so changing cartridges isn't a sweat inducing nightmare.
The Audio-Technica is a table with decent sound quality and exceptional build quality. It certainly is not for everyone but its unique look and feature set make it a contender. If your inner DJ is crying out the AT-LP120, it might just be right for you.
Beginning with a robust, alloy tonearm, and featuring a heavy aluminum platter it is only rivaled by the Audio-Technica in build quality. The heft of this turntable is not ever seen in tables of this price point.
It is a belt drive turntable but has 33 and 45 RPM speed options. This turntable comes with a moving magnet phono cartridge (a Music Hall Magic 2 to be quite specific, actually).
If this article helped you, please "like" our brand new Devoted to Vinyl Facebook page.
You Might Also Enjoy: